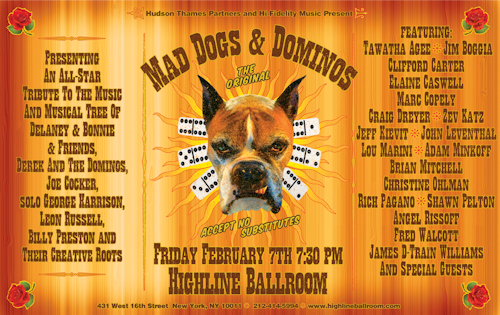 Hudson Thames Partners and Hi-Fidelity Music present
MAD DOGS and DOMINOS
with special guest LULU
HIGHLINE BALLROOM, NYC
Friday, February 7th, 2014 / 7:30 PM

All-Star Tribute To Delaney & Bonnie,
Derek and the Dominos,Joe Cocker,
solo George Harrison,
Leon Russell + More
Featuring an All-Star band
431 W. 16th Street, New York City
Box Office: (212) 414-5994
Doors open at 6 p.m. Click here for details.
---

"AMERICA CELEBRATES THE BEATLES"
All-Star Gala Charity Concert in NYC

February 8th, 7:30 PM
Town Hall - 123 W 43rd St.

with Tommy James, Marshall Crenshaw, Al Jardine,
Fred Schneider of The B52s, Melanie, Gene Cornish,
Larry Kirwin of Black 47, Richard Barone and more!
Backed by Steve Conte, Graham Maby,
Andy Burton and Rich Pagano
Time Out says:
"A mighty impressive gaggle of American pop stars from a variety of vintages comes together to celebrate the indelible impact the Beatles made when they landed on our shores 50 years ago. We have no trouble imagining what singers like Tommy James (of "Crimson and Clover" fame) or former Beatlemania star Marshall Crenshaw will make of the moptops' oeuvre, but we're itching to hear B-52s frontman Fred Schneider take on, say, "I Am the Walrus."
Click here for tickets and information.
---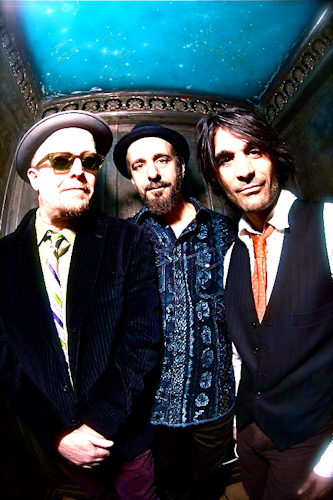 EARLY ELTON
with Jeff Kazee, John Conte and Rich Pagano
---
THE STATE THEATRE CENTER OF THE ARTS, EASTON, PA PRESENTS
Rich Pagano & Frank Agnello of The Fab Faux
State Theatre Exclusive Performance Lecture:
'The Art of Singing and Drumming'
AND
'Uncovering Beatles Guitar and Song Brilliance'
Sunday, March 2nd 2014, 10:00 AM

This brand-new event is a chance for Fab Faux/Beatles fans to spend some quality time with two of the Faux principals, Rich Pagano and Frank Agnello, in a rare performance lecture.
Rich will spend an hour on "the art of singing and drumming", then Frank will handle "uncovering Beatles Guitar and Song Brilliance." The guys will also talk about their influences, creative approach, amazing careers (the Fab Faux is their passion, not their "day" job) and take questions in a structured, yet informal setting.
There may even be a special guest on drum kit number two!
This is a rare chance to get up close and very personal with Rich and Frank. If you are a musician, aspiring musician, or just love the Faux and their music, this is your chance.

---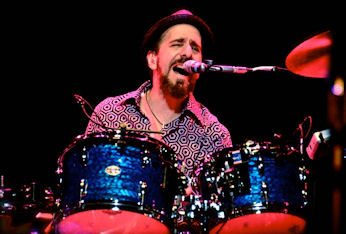 One on One Private Lessons with Rich Pagano
* The Original 'Art of Singing and Drumming'
(non-singers welcome)

A comprehensive performance lecture on the benefits of not just being a singing drummer but also a musician with an understanding of honoring, inspiring and supporting the vocalist/musician.

~ Students being accepted for this 'One to One'
private lesson in NYC. Group rates available.
Contact Rich at: info@richpagano.com.
---
---
You are on this list because you expressed interest in a Rich Pagano, Prisoners of 2nd Avenue, Mad Dogs & Dominos or an Early Elton event or recording. We have created an all-encompassing monthly newsletter to keep from sending multiple emails, which can pester. Rest assured that we will never sell or give away your email name. If you no longer wish to receive these mailings, please manage your subscription preferences below.